Havanese Puppy Finegan Shares Love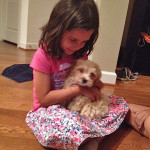 Havanese puppy Finegan enjoys his new Forever Family. August 18, 2015 we received this delightful update on just how well he's doing.
No scratching at ear today- could it have been the microchip being new? Any rate I told the vet if it started again would bring him in otherwise will see them in 2 wks. Will get you family pic but until then so you can see he is doing well and well loved some pics below. Did I tell you the kids have been taking turns camping out next to his crate in our room so he isn't lonely at night! Now if I could get him not to want so many potty breaks at night!
Thank you, Lisa, for the updates. I think we have no worries here! 🙂