Havanese "Charlie Brown" doing well with his Forever Family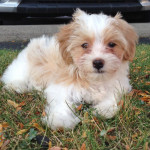 This update was sent August 16 and I nearly missed getting them posted. "Charlie Brown" is well adjusted in his new home and Kate sent us this update. He seems to be 'struttin' his stuff' just fine!
Hi Debbie and Ed,
We are already so in love with Charlie Brown! He slept the entire car ride home, but then he was up and playing with us in the evening. He adjusted well to his crate (he only cried for about 5 minutes and then settled down for bed). We only got up once in the night to take him outside as well! This morning has been lots of fun- we played fetch with a ball, explored new toys, and ate breakfast. I think that tired him out because he is now taking a nice long nap.
Kate