Havanese Puppy Ollie Goes Home!
August 16, 2015
Hi Debbie,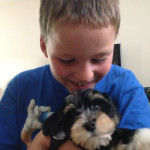 We just wanted to say hello and let you know that Ollie is doing really well!!  He cried for about 5-mins when we put him in his crate last night, but after that he settled down and went right to sleep.  He stayed quiet all night, and went to the bathroom straight-away when we took him out around
6:45
this morning.
He seems to be adjusting & enjoys playing with the kids.  They love him so much already!!  I've attached some photos of him in his new home 🙂  Thank you for taking such good care of him.  We promise that we will do the same and keep in touch with updates and photos for you!!
from the Carkey family