Lokkei Tours the Havre de Grace Waterfront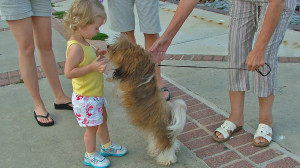 It was a great evening (Aug. 29) when I had the opportunity to walk the waterfront in Havre de Grace. It was a little overcast, but comfortable with a wonderful breeze. And so many new things to smell, and hear, and taste.
I even met a new friend, young Jill. She was so much fun! We shared kisses and giggles.
I enjoyed seeing the Thursday night sailboat races, the skipjack Martha Lewis and the Lantern Queen riverboat. Golly, I can't wait to get to Binghamton to tell Larrgo all that I've seen. He'll be sooooo jealous!
Keep checking back. By the time you read this I'll have headed back to Binghamton to my handler, Ruthellen Viall of Viva Havanese. She'll be working with me and Larrgo so we'll be in tip-top form for the Westminster Dog Show in Feb. 2014!