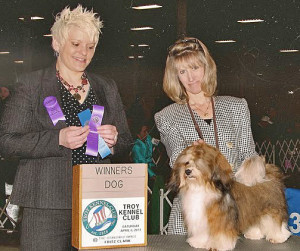 Yes this is Lokkei!!
He is really looking good.  He won his first two points at Troy (NY) Kennel Club Show.

Last weekend he was at the Harrisburg Gray and Blue Cluster Dog Show (3 days) and won all three days for a total of 12 points (Best of Breed).  He is well on his way towards his AKC Championship.  We have decided we will let him also go towards his Grand Championship.  We are really excited!!!
Meanwhile Larrgo continues to win and has a total of 79 Grand Championship points making him Top Dog in Maryland.  We are proud of our dogs and very thankful to the loving, yet professional work done my handler, Ruthellen Viall of Viva Havanese in Binghamton, NY.