Larrgo Returns to the Westminster Dog Show
It is with great anticipation that we prepare to watch GCH SurLuvs Lickin LARRGO de Grace at this year's WKC Dog Show on February 16-17 in New York City. If you remember, he participated in the 2013 show. He didn't make the final cut (last 4) in his breed but made an excellent showing.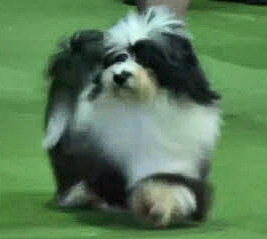 He was only 13 months old. Remember those little tufts of hair on his head? Puppy hairs! When the judging gets tight, they can cause a loss of points.
Well, beautiful Larrgo has continued to improve and win titles. Plus this year there are no puppy hairs! Here's an update from Ed and Debbie:
We received our package for the Westminster Kennel Club Show in February.  So we are officially in this year.  Larrgo is getting very close to Gold Grand Champion which takes a total of 500 points.  This is when you only get 5 – 10 points per show.  He continues to be in Top Notch Toys magazine where the judges see him before shows.
To enjoy a cute video of Larrgo at the 2013 show, click here.  Then tune in to the WKC Dog Show on Monday and Tuesday, February 16-17, 2015. You can view everything online via live streaming. Check out the WKC Dog Show website. The evening programs will be telecast live on CNBC.
We wish Ed and Debbie Heydt and LARRGO a brilliant showing! Go, LARRGO!