Pastor Ed Heydt Remembered !
On April 28, 2017 at 10 a.m. a native Sourwood Tree was planted to commemorate the life of Pastor Ed Heydt, minister, active community member, and friend to so many.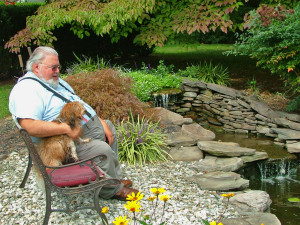 Pastor Ed served the congregation at the United Methodist Church in Havre de Grace for many years. As Mary Boehly shared, "Both Pastor Ed & Debbie have touched lives in the church and so many others in our community . . . such special people!" Mary took all these photos to share with Debbie. It's wonderful that they shared them in this blog post.
This beautiful tree will be a special reminder every fall when the leaves turn intensely beautiful shades of brilliant crimson, purplish-red and sometimes yellow.
This is the 14th year that the City of Havre de Grace has been recognized as a Tree City USA through the  Arbor Day Foundation. In addition, students of the Havre de Grace Elementary School along with staff from the Dept. of Public Works planted 100 native species trees on City property as part of our storm water treatment and urban forestry programs… City staff thanks all the organizations and concerned citizens in our communities for their continued support and actions which are moving Havre de Grace forward with 'greening up' the City. _ City of Havre de Grace